Tweet
Is it just me is
Joe McNally
still wearing glasses from the 80's? I was just watching the latest episode of
Dtown
and Joe is on there talking about light and flash, but I couldn't help but stare at his "old" glasses. They kill me. The man probably makes a million+ a year. Buy some new glasses! Just kidding Joe...
Ok enough about the glasses. I'm writing this in somewhat of a hurry because I'm packing for Florida. I am heading down for a week of lounging in the sun and watching a little spring training with the Reds. I can't wait. While I'm there I may be involved with a shoot or two, we'll see how that works out. I'm actually waiting on an email back from a guy, but I'll post some photos up when I get them.
Real quick today, I thought I would talk about one of my favorite accessories. I have touched on it a little bit in the past, but I have never really gotten in depth with it. The battery grip I use is the MB-D10 with my Nikon D300. This grip will actually work with the D700 as well. Here is what the grip looks like:
and here is what it looks like on the camera: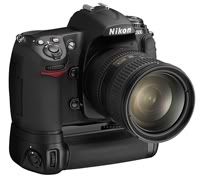 Many people think battery grip and they think "extra battery". This is true, but it's not the only advantage of the Battery grip. The added size and weight of the grip make it balance really nice in the hands when you have a heavier "pro" lens on there like the 70-200 2.8. I have rather large hands, and while the D300 alone didn't feel small, I really like the way if feels with the extension on the bottom. Again, it's personal preference. To go along with the added battery and better balance, you get a vertical shutter release. This is another shutter release button that makes it easy and convenient to release the shutter when holding the camera vertical. There is also a control pad on the grip so that you can quickly move through photos or move AF points without taking your hands off of their positions on the camera. Battery grips come for just about all models of camera, and if they don't make one from the manufacturer you can definitely get one aftermarket.
Listen it's time for me to get going, but I'll post from the road, and maybe even from the beach! Jason