Tweet
Hello everyone! It seems like I've been taking a couple of days between posts lately. The reason is, we've been getting busier and busier at the studio(which is a good thing). Plus I'm constantly trying to learn new things so the past few days I've had my nose buried in Scott Kelby's "Lightroom2 book for digital photographers". I was putting off learning lightroom for the longest time, and to be honest, I really really wish that I had learned this program earlier. This is one of the best editing programs that I have ever used. It doesn't replace photoshop for the heavy editing, but for the everyday stuff like a little brightening here and there, sharpening, cropping,etc., it's awesome. On top of that it is a SUPER POWERFUL photo organizing database. I can't even begin to describe how much more organized I am now that I'm managing all of my images through Lightroom. On top of all of this, Lightroom has made it super easy to do some really cool effects, quickly. Here are a few examples of what I did this morning in a few minutes:
Here's the original:
And here's what I did today in literally 5 minutes or less: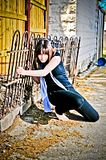 I don't have the original of this uploaded but it's fairly bland like the first picture above. Here's the one from today.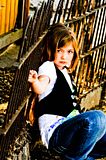 These aren't presets or actions that I bought somewhere either, just some that I did on my own.
Lots going on in the news department, but the main thing I can think of that has happened lately is the Pocket wizards are shipping now for Nikon. I talked to Wilma at
K&R
and she said that she would have some by the first of the month(tomorrow) If that happens, I'll have some to play with this weekend and I'll get you a full review by Monday. I can't wait.
Got a new website for the Studio. Right now it's linked to Shad's site, but that site is going to be transitioning to the studio site in the very near future. The new (and from here on out only) web address is www.rdphotos.com.
We were featured on Channel 9 last night. I have been in talks with Tanya ORourke for the past few days about the state of the wedding industry and she gave us some credit and free advertisement last night on the 5:30 news.
It is getting close to wedding season, as a matter of fact we have a few next month. Time to get geared up for that. If you haven't done so already, check your gear for anything that need serviced and get it done ASAP.
Alright last but not least, be sure to check us out on Twitter @RedDoor Photo. Alright, gotta run for now, see you all soon. Jason