Tweet
Talk about your dedication... I spent all day Saturday sitting on the corner of 4th and Baseball Alley in Louisville Kentucky taking pictures of runners/walkers passing on their way to the Finnish line. It was boring. I don't mean boring in that I didn't have fun, but it was ok. I mean boring like I would have been doing just about anything else besides that. I'm pretty sure a monkey could do what we were doing. We sat in lawn chairs, had our camera's on monopods and just shot on continues high all day long. 8000 frames in 4 hours boring. But I digress. There were a few runners that caught my attention, the one above being one of them. He wasn't first, and he wasn't last. He wasn't even the most interesting( that award goes to the guy dressed like Elvis pushing a stroller with a sub woofer in it) but he was by far the most dedicated that I saw. As you can see in the photo, he was bleeding from both nipples. I don't know about you, but just looking at that hurts me. That is dedication right there. Anyway here are a few of the ones that don't scream boring...
This is the guy that won the race. He reminded me of a gazelle watching him run...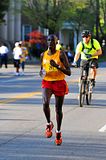 I was just diggin this guys style...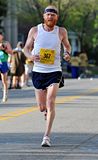 This guy came strolling through about 30 minutes before the race started. I hadn't seen anyone carrying a boom box around in so long that I had to take a picture...
On that note, I'm outta here. I gotta head home and Finnish editing the 350+ pictures that a certain photojournalist took yesterday at the Mt. Saint Joe shoot.(Breanna). See you all tomorrow.