Tweet
Good morning everyone. It's been a week since I last checked in, sorry about that. It's been a crazy week for us with a wedding, two sets of engagement pictures,and three sets of portraits to edit. 4000+ images to go through right there... The shot you see above is from the wedding. Just one of the pre-wedding shots of the dress. Used a Pocket Wizard attached to an SB800 sitting on a table behind the dress to light it up from behind. Converted it to black and white in Lightroom, and cloned out an extra hanger in photoshop. Beautiful dress, for a beautiful bride. Later this week I will show some of the images from the wedding, but I haven't delivered them to the bride and groom yet, so I want to wait until they see them first.
We were in Columbus last Thursday for some engagement photos and while we were there we had to stop at
Midwest Photo Exchange
just to say hi, and peruse the store for great stuff. We came upon a great little light modifier that just hit the market. It's a mini "beauty dish" made specifically for speed lights. it's manufactured by a company called Interfit, and branded under the name
Strobies
. If you follow
The Strobist
David Hobby, you may have seen this little beauty a while back when he first got to try them out at a trade show. They are basically a small beauty dish that fits on your hotshoe flash and creates a "high glamor" style lighting. Not to be used for every portrait for sure, but in certain situations it will work to create a look that is a little different than normal. Here's a picture of the unit that I got from their website: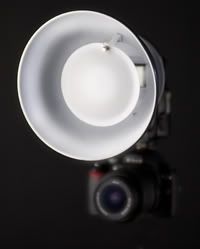 As you can see it's a reflector ring with a small white center reflector in the middle. How it works is this; the flash fires, hits the small center reflector and is bounced back into the main "large" reflector ring where it is again reflected onto the subject. This essentially makes for a larger light source. The trade off seems to be around 1 stop of power so you'll have to play with it to get the feel for how much + or - you need on the flash compensation to get a proper exposure. Shad used it during the engagement session, but we haven't had a chance to use it in a controlled environment yet. I suspect that this will be best used on a boom directly over the face, or slightly off axis as a nice main light. I don't think this is an attachment do use directly on camera all of the time, but rather a nice addition to the modifying arsenal to make our lighting different. I can't wait to see what we get with it. Shad bought this one, but the next time we head up there (in August) I'll more than likely pick one up for me.
Some bad news about the Pocket Wizard Flex units for Nikon. Pocket Wizard has pushed the release date for the Nikon version of it's popular
Flex
units until the fall siting some re-engineering issues with the Canon units as reason. Apparently when they started developing the Flex units over at Pocket Wizard for the Canon's they were using "off the shelve" brand new units. The feedback they got from customers was that the many people were experiencing intermittent connectivity issues, as well as range problems. What they found the problem to be was IR interference. The older(pre 2009) flash units were emitting varying and sometimes powerful IR white noise. This wasn't happening in the newer models that they had used for design. They had to pull most of their engineering teem off of the Nikon project to fix this Canon Problem. This folks is why I shoot Nikon. When it comes to cameras, and lenses, you really can't go wrong with either manufacturer, but when it comes to the flash technology, specifically the wireless interface between them, Nikon wins every time hands down. I'll keep you posted as more information comes out, but as of right now, we have to wait till the Fall.
The second part of the
Strobist
BootcampII is going on now. This weeks contest is food. Visit his blog to get the info. There are already over 100+ submissions and it just started yesterday! They've got some great prizes over there, you should check it out.
That's it, that's all... All I got today. Hope you all have a great day! Jason